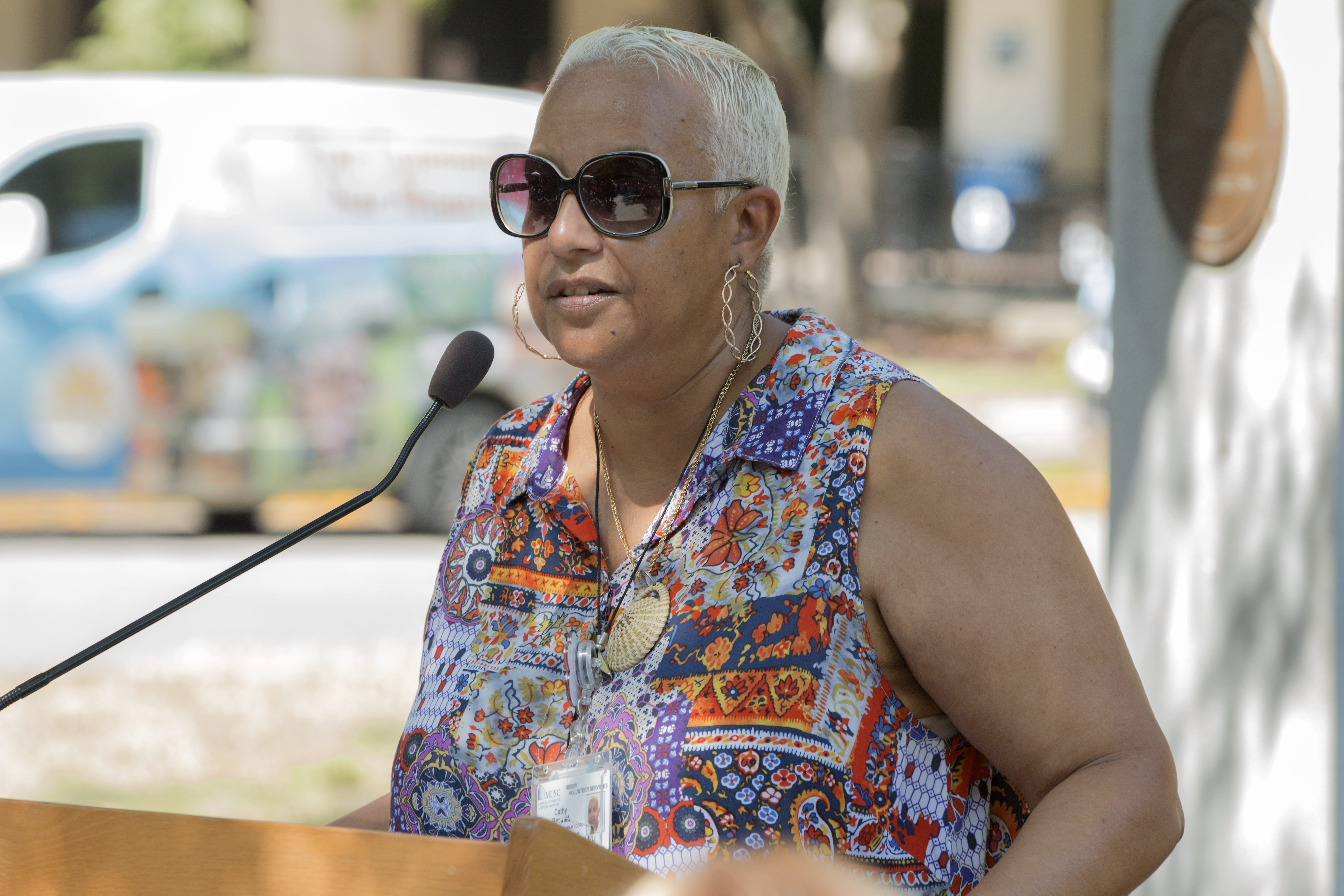 Illness disrupts the fabric of people's lives, forcing them into unfamiliar and stressful situations. Patients have to undergo difficult tests performed by strangers to find out what is wrong. Therapies can bring challenges of their own. All of these occur far from the comforts of home.
Pet therapy can be just what the doctor ordered: warmth, love and connections that bring about immediate stress relief. No one who has seen a sick child's face light up when a therapy dog shows up to his or her doctor's visit or hospital room would doubt the power of that encounter. 
"When the dogs come to the unit, It is always a morale booster for the staff and a stress reliever for the patients." -- Karen Packard, Research Nexus clinical nurse manager
MUSC's research community certainly relies on and supports pet therapy and is interested in gathering data to better understand how it benefits care.
Reaching out – Giving Back
The South Carolina Clinical & Translational Research (SCTR) Institute's Research Nexus provides fee-based clinical space and support for studies at MUSC. When Research Nexus clinical nurse manager Karen Packard, MSN, RN, and other staff members noticed an increase in the number of children coming to the Research Nexus clinic for blood draws and other study-related procedures in late 2018, they wanted to do something to make the visits easier for them. They reached out to Cathy Bennett, MUSC's pet therapy program coordinator.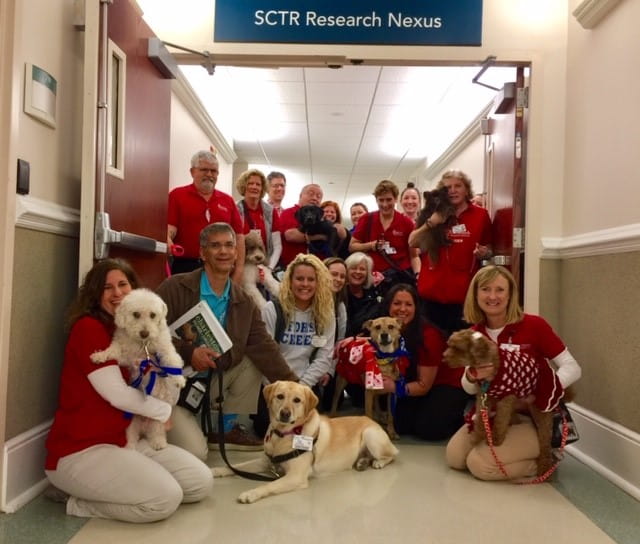 The Research Nexus team let Bennett know when appointments were scheduled, and she sent pet therapy teams to work with children during the most stressful part of procedures. 
"When the dogs come to the unit, it is always a morale booster for the staff and a stress reliever for the patients," said Packard.
Inspired by hearing Bennett present about her work with Research Nexus at the SCTR winter retreat, SCTR Staff Council co-chairs Theresa Milne and Michael Watson and other council members decided to do a fundraiser for the pet therapy program. They created a calendar featuring pets owned by SCTR employees and will sell them for $15 apiece.
"After hearing about the impact of the MUSC pet therapy program, we wanted to help the cause in some way," said Watson, who has led the pet calendar effort. "SCTR loves pets and the calendar was a no-brainer."
Milne was also onboard. "SCTR Staff Council has been involved with many different fund-raising efforts," she said. "When we saw an opportunity to help our MUSC Pet Therapy Program, we got very excited!"
Those interested in purchasing a calendar can order via this link and drop off cash to Michael Watson in Suite 140 of the Roper Office Building, 125 Doughty Street, Charleston, South Carolina, 29403. All proceeds will go to the pet therapy program.
"We are honored and humbled to have the SCTR Institute share the proceeds from their calendar," said Bennett.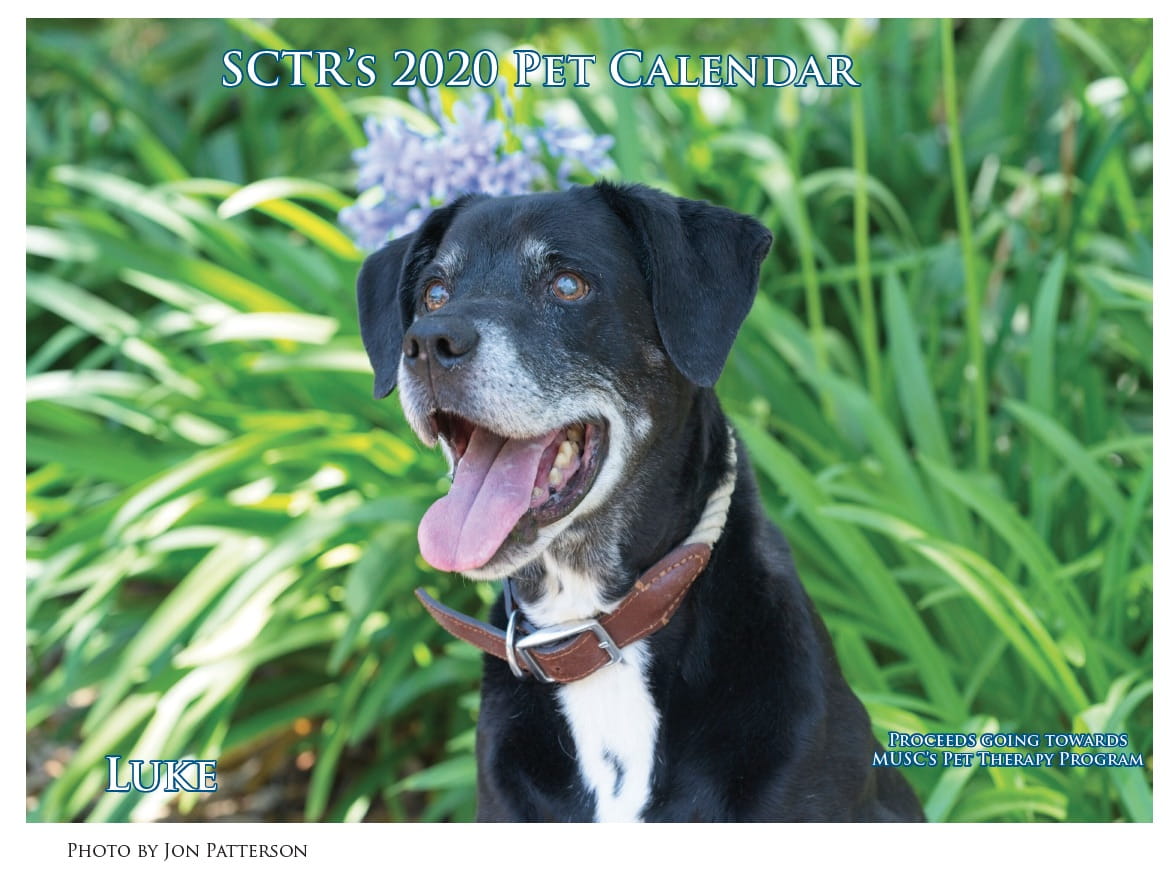 Linking pet therapy with clinical outcomes
The short-term comfort that pet therapy brings is self-evident. However, researchers are now trying to gather data to better understand how that comfort can affect patient outcomes and staff morale.
"Certified therapy dogs not only reduce stress, depression and blood pressure, they improve self-esteem, and increase physical mobility," said Bennett. "We can enhance clinical outcomes by studying goal-oriented and structured interventions using therapy dogs."
Associate Chief Nursing Officer Patti Hart, D.N.P., MSN, RN, Holly-Ann Boyle, a recreational therapist at MUSC's Inpatient Child/Adolescent Psychiatric Unit, and administrative fellow Elizabeth Baer, MHA,  led one such study, measuring how four months of pet therapy affected the therapeutic environment for pediatric patients at the Institute of Psychiatry (IOP).
"Our pet therapy team has been a game changer. When our dogs come, they're able to reach these children in ways that we can't." -- Holly-Ann Boyle, IOP recreational therapist
 "There hadn't been a routine pet therapy program in IOP," said Baer. "So our goal was to provide such routine therapy and then monitor and track the results to see what the therapy was giving to the patients." 
Over the four months, pet therapy teams visited children and adolescents twice a week to work on clinical goals, such as stress management, impulse control, anxiety reduction, and social and communication skills.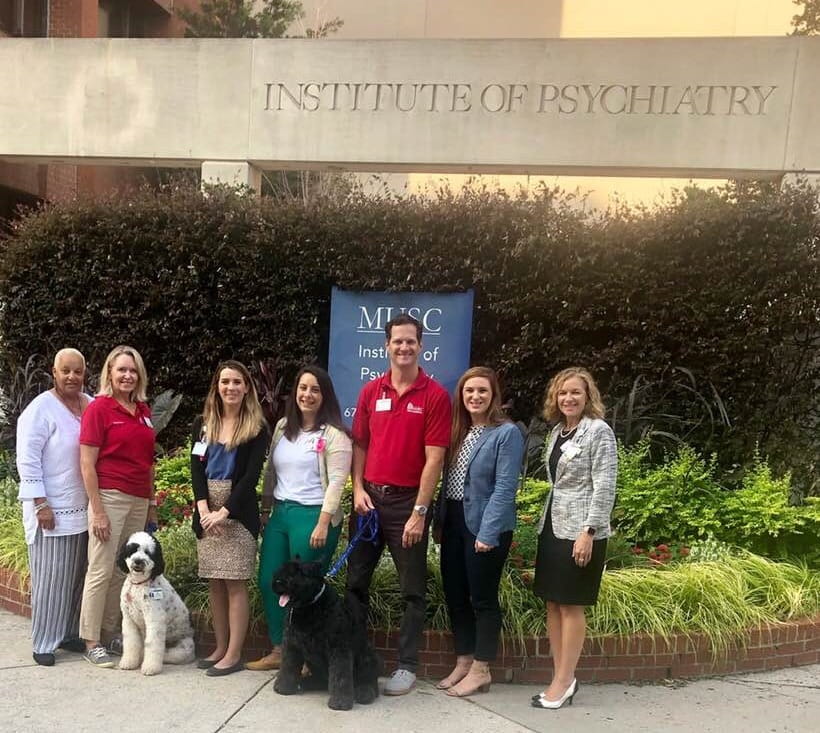 "Our pet therapy team has been a game changer," said Boyle. "When our dogs come, they're able to reach these children in ways that we can't. They're able to provide comfort. A piece of home. Laughter."
Because children are calmer after pet therapy, they act out less, making for a safer therapeutic environment. Indeed, 67% of staff members perceived their working environment to be safer after the pet therapy intervention than before, and 98.5% thought it was at least as safe as before. 
Pet therapy also reduced the likelihood that staff would have to go to greater lengths to control an unruly child. On days without pet therapy, staff were three times more likely to do so than on days with pet therapy (odds ratios, 3.0 versus 1.1).
In November, Boyle and Baer will be sharing their results in a poster presentation at the Children's Hospital Associations Annual Leadership Conference in Phoenix, Arizona.