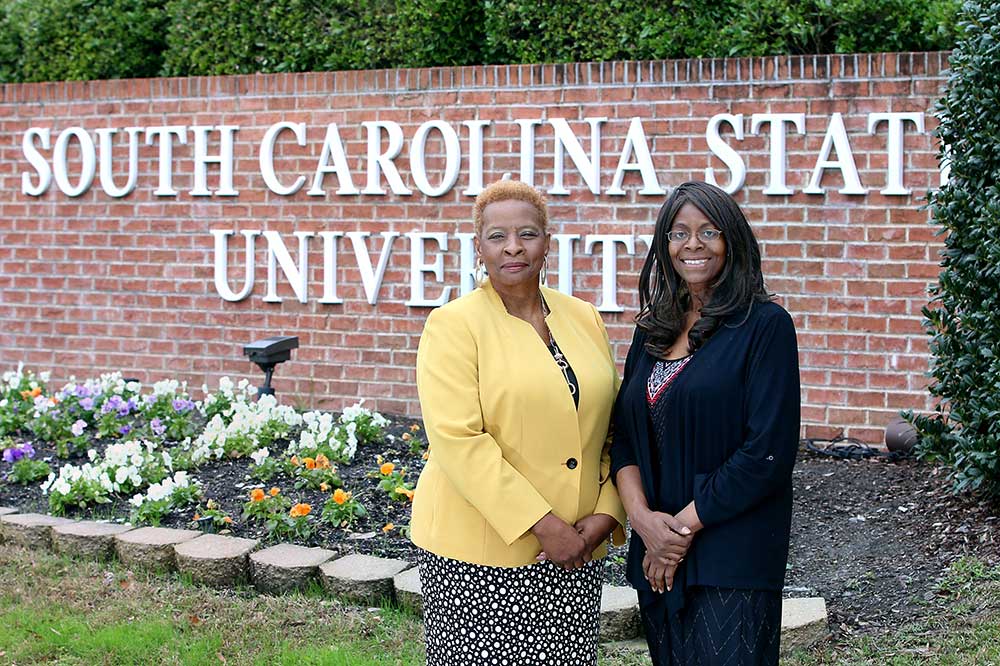 Researchers at Hollings Cancer Center at the Medical University of South Carolina have received more than $800,000 from the National Cancer Institute to support three new research projects that will be implemented under the auspices of the South Carolina Cancer Disparities Research Center, also known as SC CaDRE.
This initiative, which began in 2011, reflects the combined efforts of two universities – the Medical University of South Carolina andSouth Carolina State University. Together, this partnership has made significant advances in health disparities research.  
Marvella Ford, associate director of the Population Science and Cancer Disparities program at Hollings Cancer Center and the SmartState endowed chair in prostate cancer disparities at SCSU, has been leading the SC CaDRE with Judith Salley-Guydon, chair of the Department of Biological and Physical Sciences at SCSU. 
"We are really seeing the strength of the partnership. It's already leading to new grants and new collaborations that wouldn't have existed otherwise," Ford said.
Funding will support three new research projects over the next three years. "There's such a diversity of projects, from population sciences to basic science. And I think that helps to enhance the impact because the contributors of disparities are multifactorial and multilevel. I believe the projects have to come from different perspectives as well and different disciplines in order to really address the disparities," said Ford.
One of the SC CaDRE research projects, co-led by MUSC's Jorge Munera, Ph.D., and SCSU's Courtney Thomas, Ph.D., will focus on health disparities as they relate to the heterogeneity of neuroendocrine cells in normal prostate and neuroendocrine prostate cancer. It will also investigate the role of the protein coding gene, NEUROG3, in neuroendocrine prostate cancer. Researchers will examine the microbiome as it relates to prostate cancer. They will investigate data from the digestive system and apply those microbiome findings to prostate cancer.
"The investigators previously evaluated the role of the microbiome in relation to rectal cancer, but now they're applying their microbiome findings to prostate cancer," said Ford. "So to me, that's brilliance. When you can see the links in seemingly different types of cancers and that there may be some similarities."
The second project, co-led by MUSC's Alexander V. Alekseyenko, Ph.D., and SCSU's Nikunja Swain, Ph.D., will develop deep learning and other artificial intelligence algorithms to assess environmental factors leading to cancer disparities in Sea Island/Gullah individuals using digital imagery and geographical information. 
Researchers will use geographic information system technology and take it a step further. They will use satellite imagery to map the positions and locations of contributing factors to health disparities, such as a lack of access to hospitals.
The third project, co-led by MUSC's Gavin Y. Wang, M.D., Ph.D., and SCSU's Diandra D. Randle, Ph.D., will evaluate the role of lipid metabolic pathways in breast cancer progression and disparities in African American and non-Hispanic white women. There are high rates of obesity in the United States, as well as in African American women, and obesity is linked with hormone-related breast cancer.
Ford explained, "Fat cells produce estrogen, and if a person has hormone receptor-positive breast cancer, it feeds off of the estrogen. So the more estrogen you have, the more you are feeding the tumor."
Patients keeping their weight under control and maintaining a low body mass index is important for reducing the risk and recurrence of this type of breast cancer.
"This project is significant from a public health perspective because of the obesity epidemic in African American women. There may be a way to offer anti-obesity drugs that can actually reduce disparities," Ford said.
"I think these are all creative projects. There've been a lot of studies, and we have to think outside the box and think about relations between different types of cancers or between the environment and cancer as well as consider how we can intervene to reduce the high rates of cancer disparities and improve cancer-related health outcomes for the entire South Carolina population."
About the Author