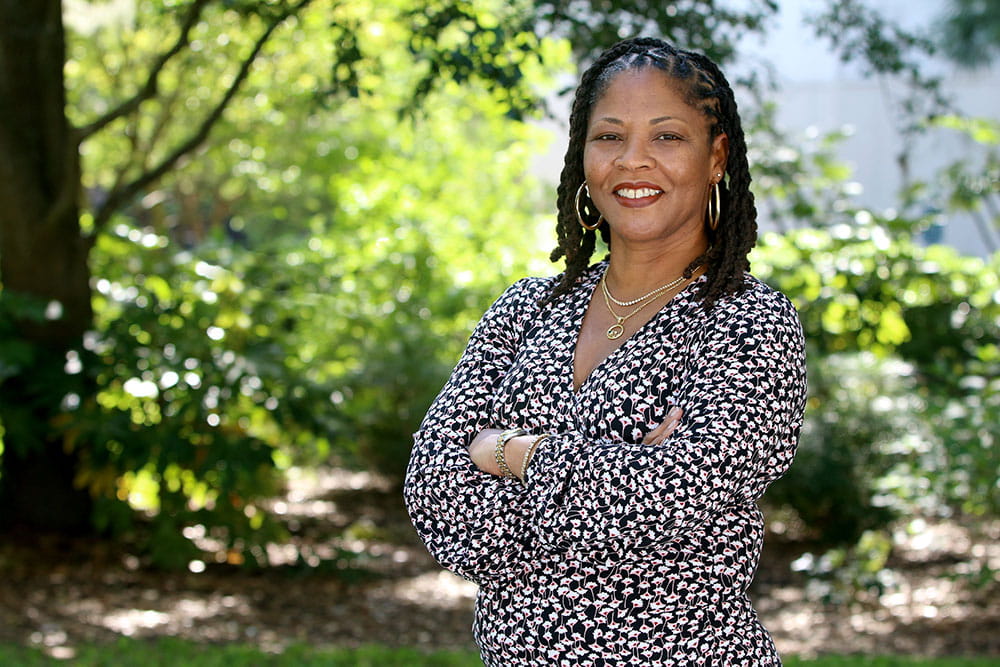 Thanks to the renewal of a six-year, $5.3 million National Cancer Institute (NCI) grant, Hollings Cancer Center at the Medical University of South Carolina will be able to continue a key statewide program to enroll more cancer patients from rural and underserved minority populations into cutting-edge clinical trials.
The funding is part of a national program called the NCI Community Oncology Research Program or NCORP. Of the 46 NCORP bases in the nation, the MUSC Hollings Cancer Center program is one of only 14 (12 in the lower 48) designated as minority/underserved community sites (NCORP-MU sites) and is the only one in the state. Chanita Hughes-Halbert, Ph.D., the AT&T Distinguished Endowed Chair for Cancer Equity at Hollings Cancer Center, leads the effort.
"We and our five partners at the VA and four community hospitals are gratified by the continuation of this program so vital to the well-being of South Carolinians," says Hughes-Halbert, who also is principal investigator and director of the Transdisciplinary Collaborative Center in Precision Medicine and Minority Men's Health at Hollings.
The MUSC NCORP-MU program continues to have a significant and sustained impact. Its goals include:
Expanding the accrual of racial/ethnic minorities and medically underserved populations.
Sharing expertise, knowledge and experiences with academic-community based partnerships.
Assisting in the development and implementation of cancer disparities research.
"Particularly exciting in this latest iteration of the program is the increased emphasis on training clinical and translational researchers and the chance to further build our collaboration and the statewide infrastructure for cancer control, diagnosis, therapy and trials for all these phases of cancer prevention and care," Hughes-Halbert says.
This program will continue to address the needs of medically underserved populations.
"An aspect of our plans for the upcoming award period that I'm enthused about is the prominence of cancer care delivery research in our ever-growing portfolio and understanding in finer detail what constitutes quality care and its effects on cancer health outcomes."
Why it's needed
Pointing out that today's research becomes tomorrow's standard of care, Hughes-Halbert says it is critical that patients from a broad cross section of society participate in NCI-sponsored clinical trials to produce results that are truly representative of the population. Only then can research findings be applied to benefit as many cancer patients as possible, she says.
Most major medical centers are located in large cities, but it is important for many reasons that people from other areas, including rural and medically underserved areas, participate in clinical trials. This ensures that study results are generalizable to a broader population that stands to benefit from new drugs or medical approaches.
"An aspect of our plans for the upcoming award period that I'm enthused about is the prominence of cancer care delivery research ..." 
Dr. Chanita Hughes-Halbert
Achieving such all-inclusive participation in trials is foundational to NCORP's goals. The program links rural sites –community oncology centers that, on their own, may experience difficulty setting up and maintaining the extensive infrastructure and regulatory expertise required to conduct clinical trials –with a major academic medical center that has a long and successful record of initiating and running large numbers of trials.
Topics under study at the NCORP sites relate to cancer prevention and control, screening, symptom management, treatment, survivorship, cancer care delivery and cancer health outcomes disparities.
Hughes-Halbert says that NCORP serves a complex and diverse ethnic, sociocultural, socioeconomic and geographic area. South Carolina's population of just over 5 million is racially and ethnically diverse, with 27% being African American compared with a national average of 13%. Of the 1.6 million people living in counties primarily served by the MUSC NCORP-MU cancer centers, 36% are considered minority, 21% live in poverty and over 75% reside in counties designated as medically underserved.
Promising results
Hughes-Halbert notes that over the past four years leading up to this summer's renewal, NCORP already had produced remarkable results, including hosting community outreach events and continuing its consistent and intensive emphasis on diversity and inclusion and informed consent training.
The number of NCI trials open among the network's institutions increased from 26 to 115, and the numbers of patient accruals to trials increased from 65 in the first year of the program to 190 last year, with more than 560 total subjects enrolled over four years. Thirty-three percent of these subjects were from minority groups, and 34% were from rural areas. Almost 6,000 new cancer cases were diagnosed in 2018 at the program's sites.
A total of 11 sites participate in MUSC's NCORP. The cancer clinical trials are being conducted at Hollings Cancer Center in downtown Charleston and at five affiliate and five additional subaffiliate sites throughout the state.
In addition to the primary site at Hollings and its two subaffiliates at MUSC's East Cooper and North Charleston facilities, the program includes affiliate sites at Self Regional Healthcare in Greenwood, South Carolina; Tidelands Health in Georgetown, with subaffiliates in Murrells Inlet and Myrtle Beach; Beaufort Memorial Hospital, with a subaffiliate in Port Royal; the Ralph H. Johnson VA Medical Center in Charleston; and the Regional Medical Center in Orangeburg.
Each affiliate has dedicated clinical trials office space to house a full-time NCORP study coordinator, clinical pharmacist with credentials in investigational drug management and lead investigator to oversee the local program and participate in the NCORP-MU steering committee. Since the program's inception in 2014, the affiliate site teams have developed strategies to build the program, improved quality assurance and increased accruals to clinical trials.
If you are a cancer patient or would like to find out more about Hollings' NCORP-MU program, you can find information, including the clinical trials open at each location and specific phone numbers and email addresses, on this news page. 
Learn more about the leadership of Hollings' NCORP-MU here.