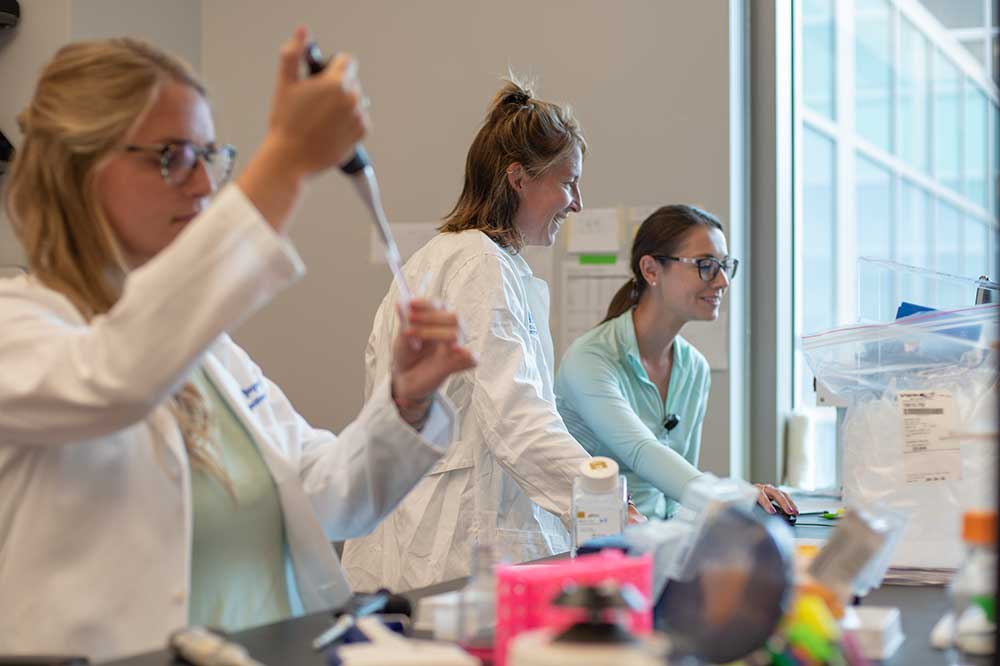 If there's one thing Jessica Thaxton, Ph.D., knows, it's the power of thinking outside the box in doing cancer research.
The Hollings Cancer Center researcher at the Medical University of South Carolina will be one of several speakers at the opening ceremony of LOWVELO, Hollings' inaugural bike ride in early November, in which 100% of rider-raised funds will benefit cancer research at MUSC. As a Hollings researcher with her own lab, Thaxton hopes donations from LOWVELO will lead to more novel  immunotherapy discoveries. She admires the innovative approach to funding research that the ride provides.
"New funding sources will be what it takes to accelerate finding cures for cancer. I'm a strong believer in innovative new ways of generating seed funding for promising research, as well as exploring new ways of doing science," she says, referring to her selection last year as one of 28 participants in the 2018 Society for Immunotherapy Cancer's Sparkathon held in Chicago. The program brought together a diverse group of early career investigators to address challenges in the field of immunotherapy.
When a team of clinicians and researchers gets locked in a room together, innovative sparks fly, she says. When that happened at last year's annual Sparkathon, those sparks ignited an idea for a national clinical trial.
"I see this trial inspiring new types of clinical trials at Hollings as we move forward with the era of immunotherapy," she says, adding that she was glad to represent MUSC Hollings Cancer Center in the Sparkathon. "I took it as a huge honor. It was also exciting to interface with faculty leaders in immunotherapy."
An even bigger honor? Being on the winning team.
The event kicked off with an address by NASA futurist Terry Grim intended to inspire Sparkies, as participants are called, to create projects that will shape the future of immunotherapy. Then, the Sparkies were broken into three teams, assigned a coach and given a list of issues that impede the advancement of cancer immunotherapy for them to choose from as bases for their projects.
"As we got into the project, my team focused on where the problem we chose would be in five to 10 years from now," Thaxton says. "That's really what the Sparkathon is for – to foresee what's coming and to address those hurdles."
Thaxton's team coach was a surprise. Instead of a well-known scientist, they were assigned a businessman with experience in app development and technology, Thaxton says. While the team and coach sometimes bumped heads, Thaxton credits him for pushing the scientists out of their comfort zones.
"I think his different perspective is what impassioned us to go outside of the box and to propose a project that was very big picture," Thaxton says.
Thaxton's team, named SITCure, chose to design their project based on a pressing question – when is it safe for a patient to stop immunotherapy?
"We came up with the idea to run a randomized clinical trial to in order to determine when it is safe to take a patient off of immunotherapy," Thaxton says. "The reason that this is even a Sparkathon-worthy idea is because we are proposing to take patients off of immunotherapy prior to what the current guidelines say."
The project married clinical practice and translational research with clinicians identifying the problem and researchers proposing how to fix it, she says. But, if they wanted to win, SITCure team members knew they had to take the project a step further.
"To increase the impact of our proposal, we decided to identify a biological signature from trial-patient samples that can predict whether a patient will continue to experience stable or reduced disease once therapy is withdrawn," Thaxton says. "The signature could ultimately inform clinicians whether a patient would relapse if therapy were ceased."
Adding an extra layer to the project paid off for the SITCure team when it was named the winner of the 2018 Sparkathon. Startup funds of $200,000, contributed by an anonymous donor, were awarded to the winning team to carry out the project with all of the Sparkathon participants involved.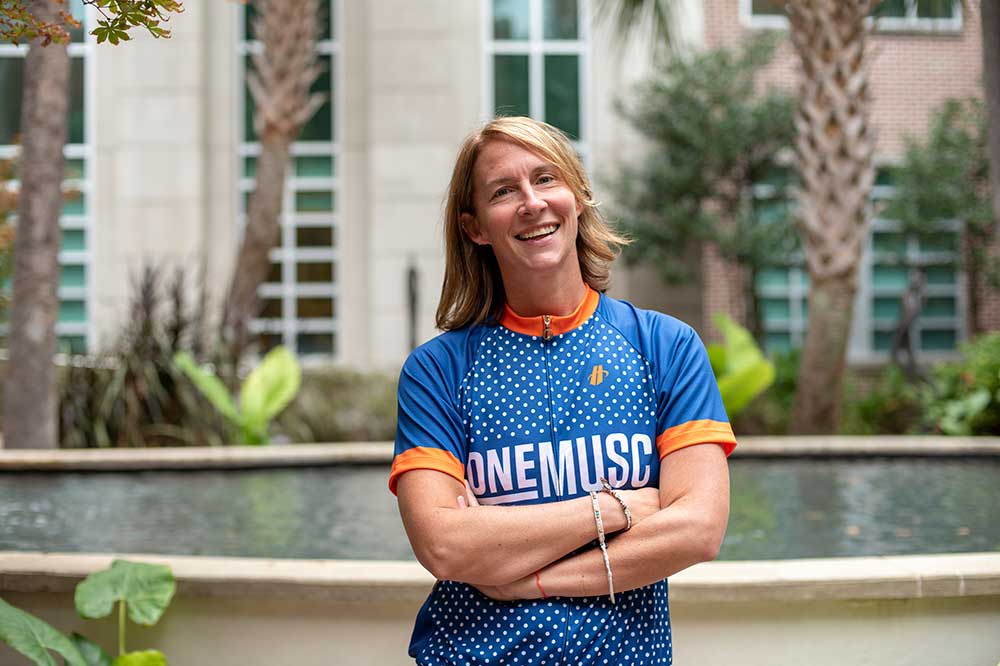 The team, which is co-led by Jennifer Guerriero, Ph.D., from Dana-Farber Cancer Institute, and Thomas Marron, M.D., Ph.D., from Tisch Cancer Institute at Mount Sinai, designed, wrote and refined the clinical trial and worked to increase funding, Thaxton says. Her role has been to design the hypotheses and testing behind the biological signature studies and to work with Blue Cross Blue Shield representatives to stimulate interest in funding the trial.
"For the biological signature work, we are using patient radiographs, circulating tumor DNA (ctDNA), immune cell phenotyping and RNA analysis to test several hypotheses that may inform clinicians that a patient will continue with stable disease or remission if taken off immunotherapy," she says. "Ultimately, the power of this trial is in the fact that we will create a new set of guidelines for clinicians to follow to assure safe withdrawal of their patients from therapy without risk of relapse."
The trial will concentrate on three specific hypotheses:
Testing whether patients who have a memory-like T cell signature will have long-term durable responses once they are off therapy.
Investigating whether there will be an activated macrophage phenotype in the blood as opposed to a tumor-associated macrophage phenotype.
Seeing if circulating DNA can be an early biomarker to see tumor recurrence as a new way to diagnose patients.
Thaxton says Sparkathon has taught her how to work in a team and how critical it is to look at research futuristically.
"With all of the combination therapies going on, I believe that, in the next five to 10 years, we're going to see incredible response rates," she says. "Once people really figure out what we need to combine in a particular tumor type to obtain a sustained and durable response, I hope that we will see cancer patients endure long-term survival and maybe cancer as a chronic disease."
The trial will take place at four or five institutes and national cancer centers, Thaxton says. The data from the trial will be deposited into a SITC-wide database, making it available for the SITC network to study for years to come.
"For Hollings Cancer Center physicians, I think what the study begins to show will very quickly be able to be incorporated into clinical practice, and Hollings will have access to that knowledge quicker," she says.
About the Author
Keywords: Cancer