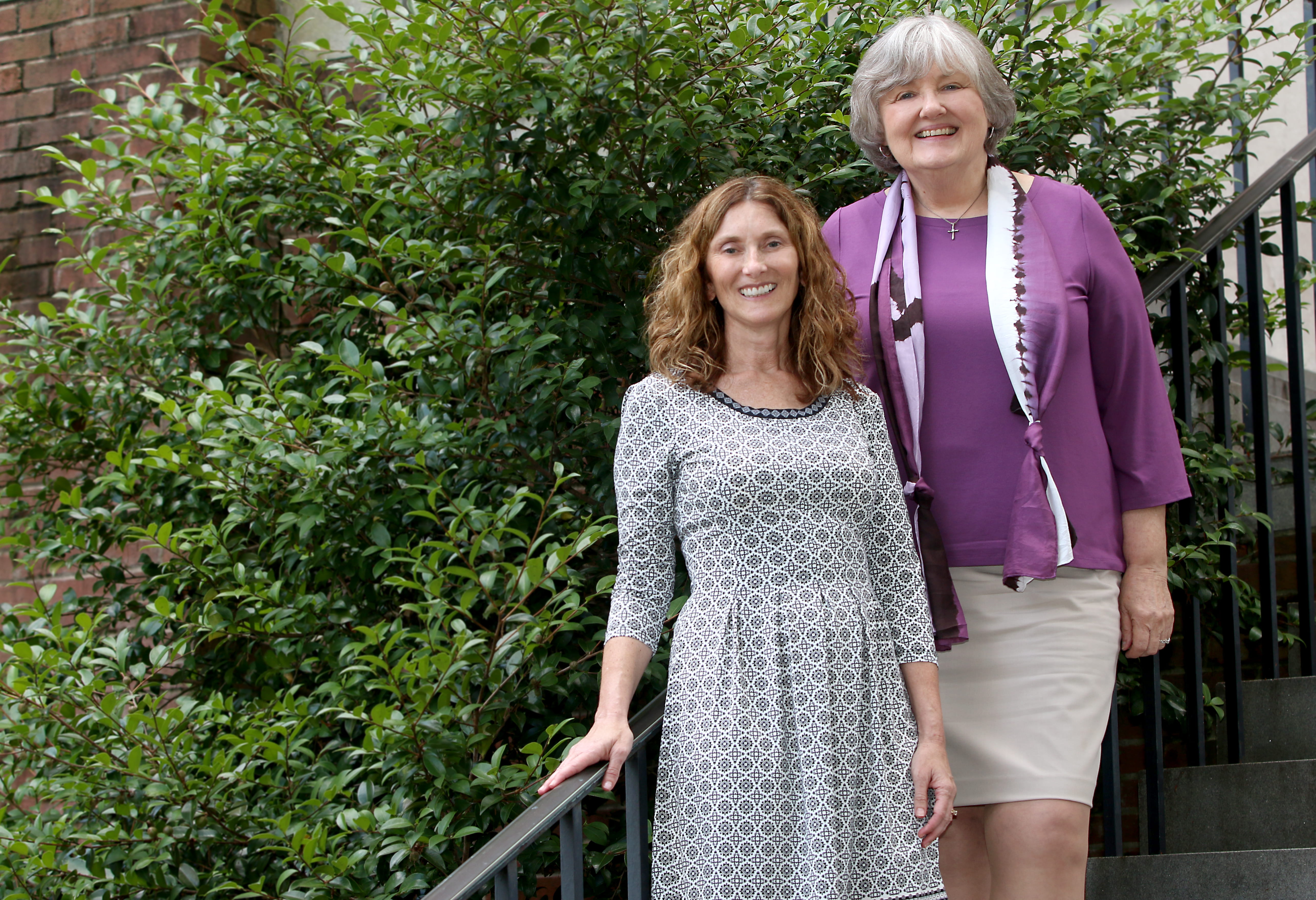 Numbers can go a long way to improving the health of a community. Researchers gather data on which therapies work best to treat disease.
But it's not all about the numbers.
Improving the health of a region is also about building relationships.
It's about getting to know a community, and letting the community get to know you.
"The likelihood of the outcomes being sustainable and being adopted by community are much higher if they're part of the process," explained Michelle Nichols, Ph.D., RN, an assistant professor in the MUSC College of Nursing, who leads MUSC's Community-Engaged Scholars Program (C-ESP). Nichols assumed leadership of C-ESP when Carolyn Jenkins, Dr.P.H., RN, Ann Darlington Edwards Endowed Chair in Nursing, stepped down as director earlier in 2019. 
The program provides pilot funds for academic-community teams to conduct community-based research projects. Academic partners learn more about the strengths, needs and challenges of the communities they serve, while community members learn more about how research is conducted.
For its tenth consecutive year, C-ESP is accepting applications for pilot funding for these collaborative academic-community projects. Letters of application are due by October 1, and completed applications are due by November 1. Those interested in applying can view the funding opportunity here and should contact Keesha Corbin of the South Carolina Clinical & Translational (SCTR) Institute before submission.
What is community-engaged research?
Unlike traditional research, which encourages objective distance between the researchers carrying out the study and their "subjects," community-engaged research emphasizes the importance of trust, relationship building and collaboration. Far from being distanced "observers," researchers often become a part of the community, attending festivals and health fairs. Instead of passive subjects, community members become active members or co-leaders of the research team, helping define research questions, design interventions, collect and analyze data and present results to study participants in the community. Community investigators and research participants become more invested in the project and, as a result, more likely to implement its findings.
"What I'm proud of is that MUSC is actively working with and supporting communities to address community problems. And if I can make some little tiny difference, particularly for our under-resourced communities, then I am very happy." -- Dr. Carolyn Jenkins
"I had been working in acute care and outpatient research, and I was finding that when individuals would go home or they would leave the controlled environment, things would fall apart," said Nichols. "As scientists, we were missing the mark. That's one of the biggest reasons why I went into community-engaged research years ago." 
"My C-ESP project was a life-changing experience," said Renata S. Leite, M.S., D.D.S., associate professor in the College of Dental Medicine, speaking of her collaboration with the Mayor's Office in Hollywood, SC, to improve oral health among the city's Gullah residents. "At the same time you're doing research, it's almost like community service. And I think that's the beauty of it. If you do a community engagement project, It has to be documented because it's research, but it's that mix of research and community service that attracts me to it."
"We don't think of ourselves as the expert," said Elaine Amella Krug, Ph.D., RN, now a professor emerita in the College of Nursing, who partnered with respite care centers in the Charleston area to improve nutrition in persons with dementia for her C-ESP project. "We just have an expertise about some of these pieces. The respite care centers and families have expertise about the individual with dementia, what he or she needs as well as what's worked in the past. And that's what we really rely on."
The College of Nursing led the way
C-ESP originally grew out of the efforts within the College of Nursing, which had long recognized the importance of community-based participatory research to changing health behaviors and achieving sustainable, long-term outcomes. Founded in 2009 by MUSC College of Nursing's Jeannette Andrews, Ph.D., RN, who is now dean of the College of Nursing at the University of South Carolina, its goal has always been to build stronger academic-community partnerships. When funds from a Department of Defense grant ran out, the SCTR Institute, a Clinical and Translational Science Awards (CTSA) hub, stepped in to support the program.
Since 2013, the program has been led by Jenkins, who has devoted her life to community-engaged research. She served as a lecturer in C-ESP before assuming its leadership. Before coming to C-ESP, she led a long-standing initiative in Charleston and Georgetown Counties focused on reducing health care disparities and improving health for African Americans with diabetes. She also worked with others on improving diabetes outcomes in Bamberg County, where 27.6% of the residents are below poverty level.
But building relationships and understanding between academic and community partners takes work. 
"In the beginning, we didn't understand communities and the communities certainly didn't understand us. They had no understanding of academic expectations, and of course we researchers didn't understand community expectations," explained Jenkins. "We wondered what we could do to make a difference, and the Community-Engaged Scholars Program was our answer."
The program asks that both academic and community members attend a 10-15­-week training, in which they learn best practices for community-based research, determine their level of readiness for the project and work to align their goals and expectations for the project. To guide this training, a toolkit entitled "Are We Ready?" was created by MUSC College of Nursing faculty in collaboration with Othra Meadows of the Trident Urban League. Together, the team meets for about two hours each week during the training.
An impressive legacy
Under Jenkins' leadership, the program has flourished. Since its inception, nine cohorts of academic-community partners have completed the program, resulting in 35 trained teams. Community partners have included a wide range of organizations, including churches, schools, advocacy groups, governmental agencies, private medical practices and hospitals. They have tackled problems ranging from HIV, diabetes and obesity to depression and posttraumatic stress disorder. Academic partners have been drawn from colleges and universities throughout the state, including MUSC, Clemson, the Citadel, Furman University, South Carolina State University and the University of South Carolina. The program's framework has been adopted by other CTSA-funded centers, such as Delaware ACCEL. Some C-ESP-funded academic partners, including Leite and Krug, have used the pilot data obtained with C-ESP funding to apply successfully for grants from the National Institutes of Health and other funders to conduct clinical trials (for more information on their work, see Success Stories below).

"In a state like South Carolina, building that trust between the academic research community and people who live in under-resourced areas has been crucial to our success in moving things forward."
-- Dr. Michelle Nichols
Jenkins is very proud of what the program has accomplished. "I'm very emotional when I think about it," said Jenkins. "Often, people don't participate in research because they don't know what it is. What I'm proud of is that MUSC is actively working with and supporting communities to address community problems and to understand some of the research environment. And if I can make some little tiny difference, particularly for our under-resourced communities, then I am very happy."
Nichols is very appreciative of Jenkins' legacy.
"Carolyn has put her heart and soul into it," said Nichols. "She embodies exactly what it means to be a community-engaged researcher, and she's been an incredible leader and inspiration for me. I have some pretty big shoes to attempt to fill."
Vision for the future

Nichols hopes to build on that legacy by ensuring that the academic-community partnerships funded by C-ESP are sustained longterm. The sustainability of these relationships can be challenged by a number of factors, including inevitable interruptions in grant funding. Nichols wants to keep relationships strong during these periods by using technology to provide training and support.
"Since C-ESP has invested in these academic-community partnerships, we want to provide long-term support and mentorship to ensure they're sustainable," said Nichols. 

Nichols thinks the past successes of the program have helped improve the lives of some of the state's most vulnerable populations and that it has much more important work left to do. 
"In a state like South Carolina, building that trust between the academic research community and people who live in under-resourced areas has been crucial to our success in moving things forward," said Nichols. "And having a program that is still ongoing 10 years later and only getting stronger and better is a testament to what this program has done and what it can do in the future."
 Success stories
 Hollywood Smiles: Improving oral health in the Gullah population
Renata S. Leite, M.S., D.D.S., first came to Hollywood, SC, to recruit patients for a study examining the link between periodontal disease and diabetes in the local Gullah population. An earlier study from the diabetes initiative Project Sugar had found that 76% of Gullah patients have some sort of periodontal disease. Diabetes and periodontal disease are well known to be linked, one exacerbating the another, making control of either difficult without controlling both.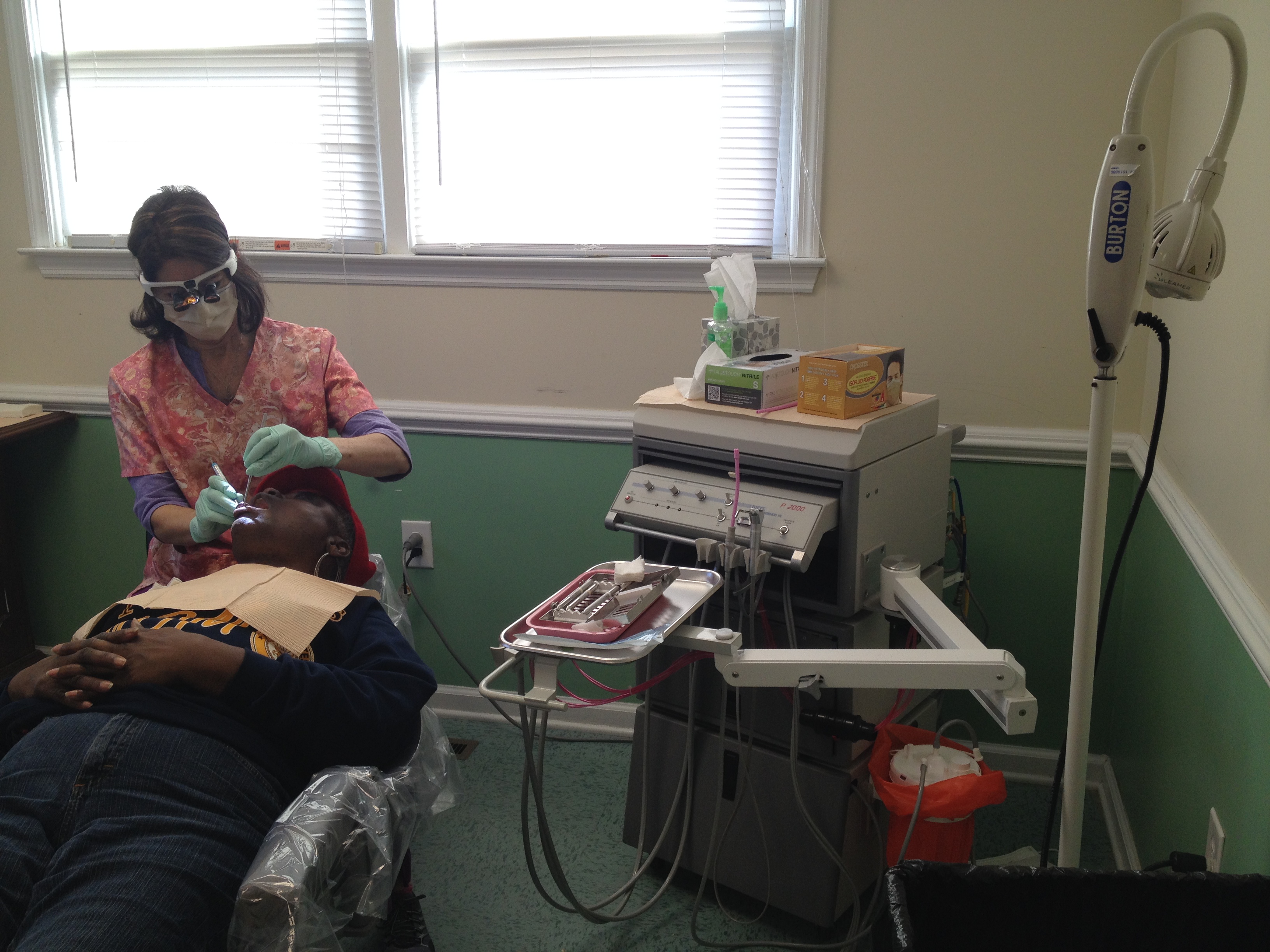 The Gullah people are African Americans living in the Lowcountry of Georgia, Florida and South Carolina, who have developed their own language and culture heavily influenced by their African roots. Almost a quarter of the residents of Hollywood or its outlying rural areas have Gullah ancestry, and some families still live near the plantations where their ancestors were enslaved. 
"I would have never designed such a project if I hadn't had the community input. And also because we addressed the barriers they thought of, it became their project too. It was our project."
-- Dr. Renata Leite
But recruiting Gullah patients, many of whom had a strong fear of dentists, into the study would not be easy. MUSC professor J. Herman Blake Ph.D., MUSC inaugural humanities scholar in residence and a founding member and inaugural executive director of the Gullah Geechee Cultural Heritage Corridor Commission, took Leite to community meetings so she could build relationships with members of the Gullah community.
"I started to better understand the Gullah community and the Gullah culture and appreciate the differences and I started to see how hard it was for them to really come forward to be part of a study," said Leite.
With Blake's help, she was able to recruit the patients she needed for her study, but she realized the problem was bigger and that real change would require a focus not just on periodontal disease but oral health and oral health literacy as such. 
That's when Leite became interested in C-ESP. She partnered with the Mayor's Office in Hollywood, working closely with Beth Carpenter, assistant to the mayor, to submit a C-ESP proposal to run focus groups and conduct interviews to better understand Gullah attitudes towards dentistry and the barriers that prevented them from seeking oral health care.
"We would get community members from a wide variety of circumstances into the focus groups and have them talk about what their problems were, why they had dental issues and what their fears were," said Carpenter. "Some people even cried because they were so scared of going to the dentist."
Leite learned from these focus groups and interviews how to design a study that would attract Gullah participants and allay some of their fears. 
First, she learned that she would have to go through the churches to reach them. For a small town, with a population under 5000, Hollywood has more than 30 churches. A pastor of one of them, the Rev. Daniel Simmons, who was later gunned down in the mass shooting at the Emanuel African Methodist Episcopal Church in Charleston, SC helped Leite make connections with church leadership and gain the trust of their congregations. 
Ultimately, Leite would trial an oral health literacy intervention in one church and use a second church as the "control." Leite arranged with Our Lady of Mercy, located on Johns Island, to provide the oral health care that participants from both congregations needed.
She also learned that to build trust with the Gullah community she would need to hire someone from the local community as a liaison. So she hired Jarvetta Heyward, MPH, who was born and raised in the community and now works at MUSC, to serve as a liaison for the program and explain the procedures to the participants. 
"I think having people from their own churches, people who they knew grew up out here and lived here all their lives, definitely helped establish trust," said Carpenter.
Leite also learned that patient information would need to be easy to read. With voucher funding from SCTR, she eventually developed an oral health handbook that was written with this audience in mind, using focus groups to gather the community's input.
Finally, she learned that transportation to Johns Island for dental treatment would be a barrier for community members. So she bought gift cards that were given out by the dental hygienist hired by the study at Our Lady of Mercy.
Leite believes that this formative research, made possible by the C-ESP funding, was key to the successful design of Hollywood Smiles, the NIH-funded study she later conducted. 
"I think it's crucial to have the community be supportive of your project," said Leite. "I would have never designed such a project if I hadn't had the community input. And also because we addressed the barriers they thought of, it became their project too. It was our project."
Although the NIH-funded trial is now complete, Leite maintains strong ties with the community, which she has grown to love.
"Over time, this became a friendship. I still have a relationship with Hollywood," said Leite. "I still attend community activities."
Partners at Meals: An initiative to improve nutrition in patients with dementia
As a nurse practitioner specializing in geriatrics, Elaine Amella Krug, Ph.D., RN, has long been interested in patients with dementia, and more specifically in how to improve nutrition in these patients. Many patients with dementia are underweight, in part due to medication-induced loss of appetite or behavioral issues that can make mealtimes challenging. 
When caregivers can't negotiate mealtimes to ensure adequate nutrition for patients with dementia, they are more likely to consider institutionalizing them. To delay institutionalization as long as possible, Krug wanted to develop an intervention that would help caregivers meet the nutritional needs of patients with dementia.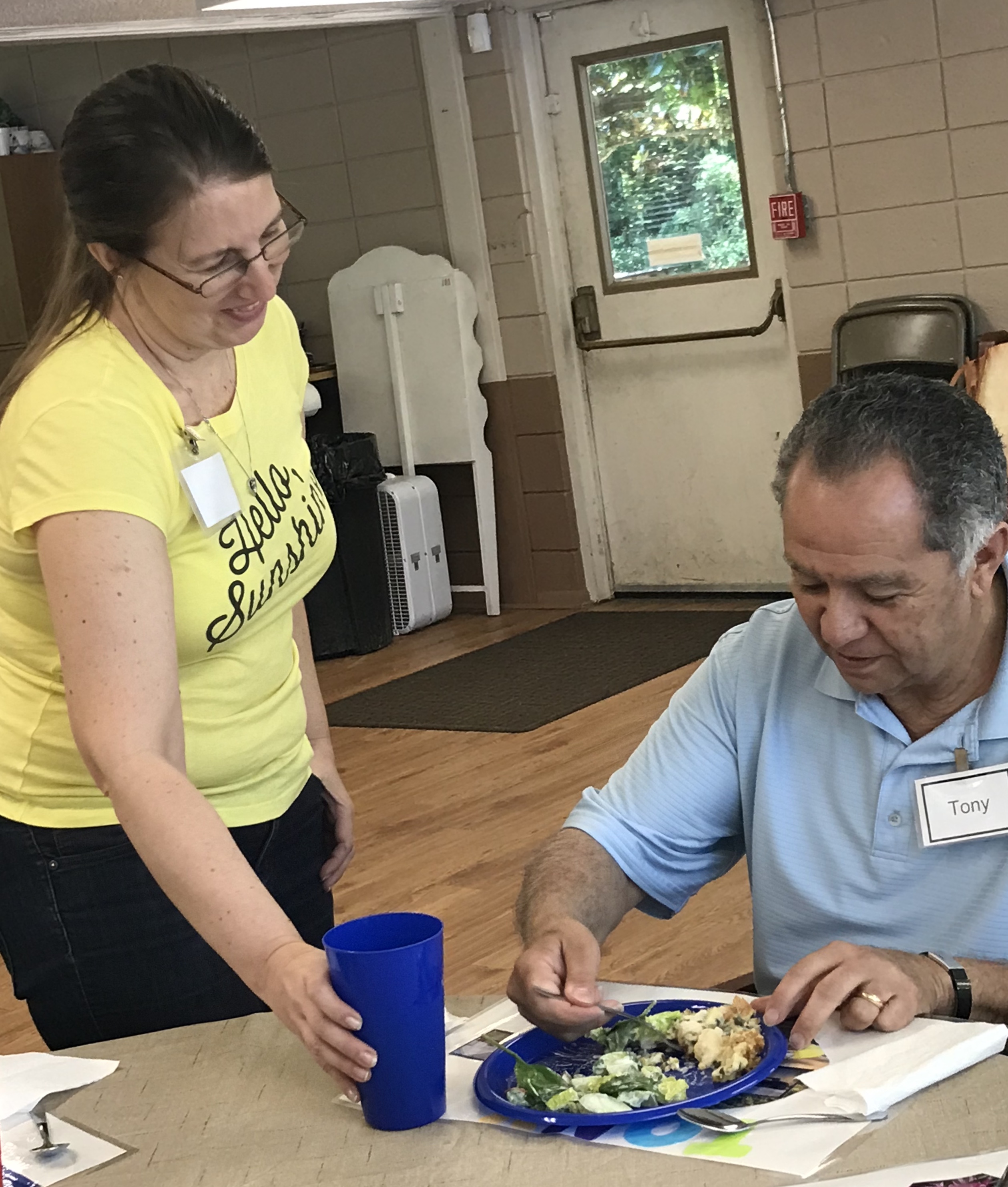 For Krug, respite care centers, which provide four hours of meaningful social interaction and a meal and snack per day, represented the ideal place for her intervention. With C-ESP funding, Krug began working with two respite care centers, The ARK in Summerville and Respite Care Charleston.
Through those partnerships with respite care centers, Krug sought to assess the feasibility of Partners at Meals, an intervention to improve nutrition in patients with dementia by concentrating on the three P's: the place where the mealtime occurs, the person who assists with the meal, and the person with dementia. The respite care centers allowed direct observation of the eating habits of patients with dementia and made it possible to learn about mealtimes at home.

Krug worked with Laura Stefanelli of Respite Care Charleston to develop an effective way to approach families and select patients for the study. She worked with the ARK to develop a training program for respite care volunteers. One element of the training is assessment of the mealtime environment.

If mealtimes are too hectic or the environment too distracting, patients with dementia can find it hard to focus on eating. "The environment and the people around them are critical to them being able to eat," said Krug. "But nobody was paying attention to that."

"Caregivers are stressed and sometimes they don't sit and have that family meal with patients with dementia, and there are too many distractions," said Styslinger. "And I think that's what Partners at Meals is all about. It encourages them to slow down long enough to be mindful of meals and their setting."
"Making such a toolkit could keep people at home and empower patients with some simple techniques."
-- Dr. Elaine Amella Krug
The training program instructed volunteers how to evaluate the mealtime environment and train family members to do the same. Krug was able to show that volunteers with no specialized medical background could perform these duties after the training. This was a key finding, because it means that respite care centers need not hire expensive new staff to be able to implement this intervention. With these preliminary data, she was able to secure an NIH grant to conduct the intervention, which is underway.
The NIH-funded study is now (after Krug's retirement) led by Teresa J. Kelechi, R.N., Ph.D., who will become associate dean for research in the College of Nursing on September 1 when Jenkins steps down, and Suparna Qanungo, Ph.D., an associate professor in the College of Nursing. The study provides a tablet to each participating family at Respite Care Charleston or the ARK. Volunteers train caregivers how to take photos of the patients' food before and after meals so that the quantity of food can be assessed. The caregivers also take photographs of the environment. Any issues identified at mealtime are then addressed in a patient-specific intervention. Together, the volunteer and family implement the intervention, adapting it as needed. The study also tracks caregiver depression, self-efficacy and burden, with a view to better understanding which resources would improve their quality of life. 

If the program proves successful, Krug hopes that the team can develop a toolkit, handbook and video that could be published on a dementia foundation's website. In this way, respite care centers and families would have the tools they need to mount a similar intervention.
"Making such a toolkit could keep people at home and empower patients with some simple techniques," said Krug.
About the Author