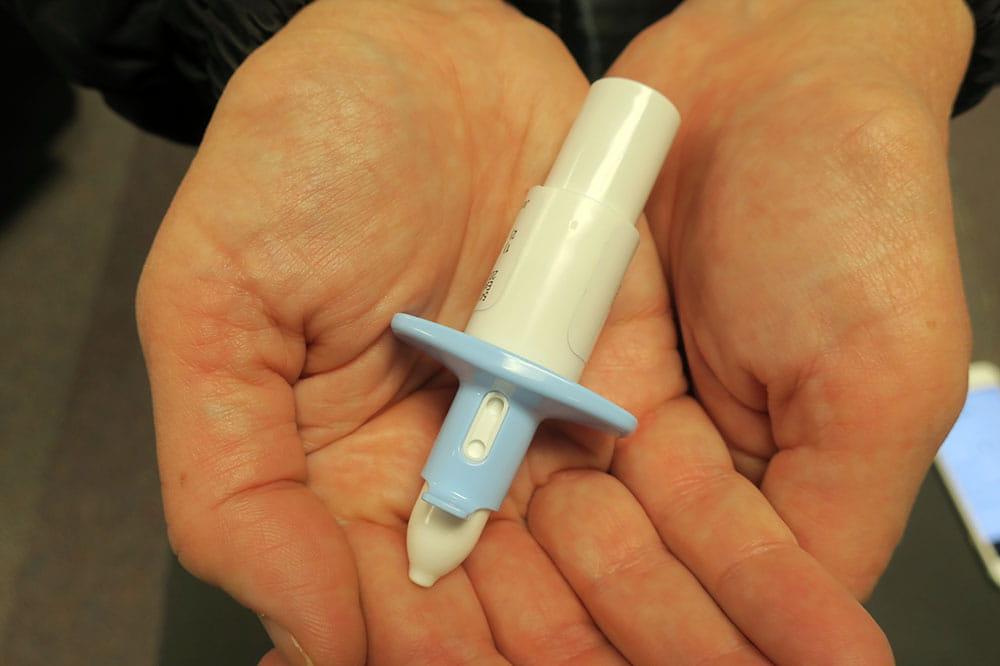 A newly approved nasal spray to treat depression has been studied for years at the Medical University of South Carolina with, in some cases, remarkable results. "There's no miracle drug, but that's as close as they come," says Melissa Michel, a program coordinator in the Department of Psychiatry and Behavioral Sciences who has used the ketamine-derived treatment on patients in a clinical trial.
The drug, called esketamine, will be sold as Spravato. Psychiatrist Robert Malcolm, a professor in the Department of Psychiatry and Behavioral Sciences who helps lead MUSC research on the medication, says he's cautiously optimistic about its impact. "It represents really the first new mechanism for action basically since Prozac and the early SSRIs and SNRIs back in the 80s, apart from transcranial magnetic stimulation." The MUSC esketamine research team includes Cam Mateus, Tom Brouette, Diana Mullis, Sarah Book and program coordinator Kristi Huebner.
Malcolm says esketamine could be available to the public in as soon as two to three months. The Food and Drug Administration approved the prescription treatment yesterday.
Esketamine works in part by targeting glutamate receptors in the brain. Malcolm says it appears to help people who have tried other antidepressants that didn't work for them. "The benefits are good and very quick, within a few hours."
The nasal spray may also be a bridge to getting other antidepressants the patient is already on to work better, Malcolm says.
The benefits are short term if a patient doesn't continue the treatment. "That's one problem," Malcolm says. "Another problem is it can cause confusion, dizziness and sometimes mildly elevated high blood pressure." 
Esketamine, like ketamine, can cause brief dissociative episodes in certain people and requires safety monitoring. It also has the potential to be abused. 
But when a doctor is trying to help someone who is suffering from severe depression, including people considering suicide, the results can be powerful. "You can possibly treat someone in an emergency department. The suicidal thinking goes away rather quickly and they're amenable to outpatient treatment," Malcolm says.
The FDA-approved version of the esketamine treatment involves two sessions a week for a month combined with a traditional antidepressant. The company that makes the medication, Janssen Pharmaceuticals, says many insurance plans will likely cover it. Patients will have to get the treatment under medical supervision. 
Michel, the program coordinator who has seen its effects at MUSC, is excited about its potential to help millions of people who don't get much or any benefit from older treatments or talk therapy. "It's definitely the most successful trial I've ever done."
Suggest a Story
Have an idea for MUSC Catalyst News? Contact our editorial team and let us know.