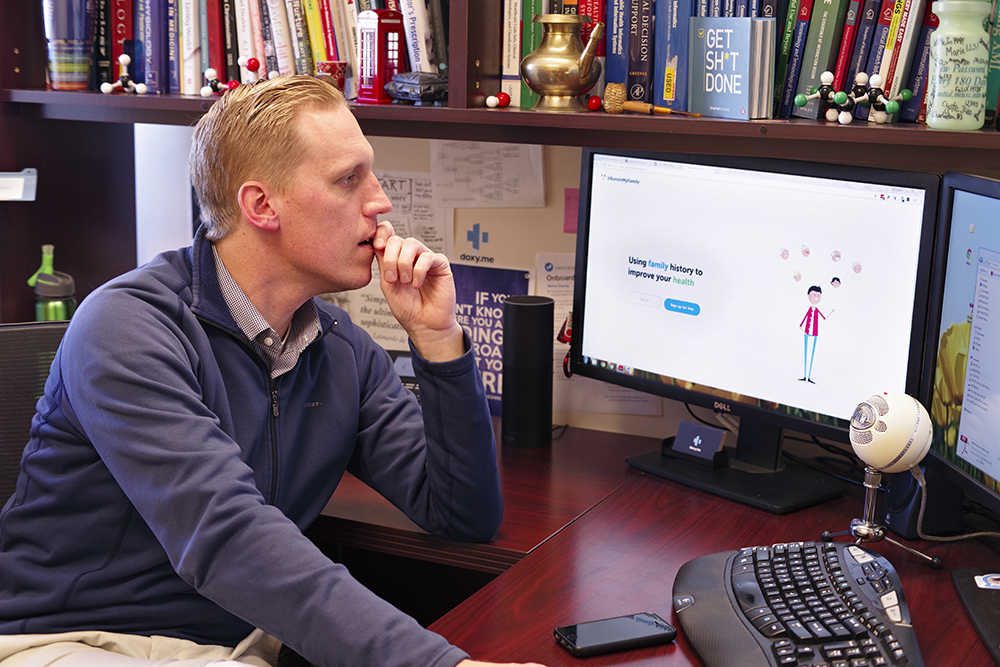 "Will I get cancer?" It's not the kind of question one typically asks Google or Siri — but maybe it should be, says Brandon Welch, Ph.D., a biomedical informatics researcher with MUSC's Department of Public Health Sciences.
Last year Welch received an $867,000 grant from the National Cancer Institute — part of the National Institutes of Health and the nation's leading cancer research organization — to continue his exciting work with social networking and artificial intelligence. His goal is to create a simple tool that will allow patients to crowdsource their family health histories, something he hopes will give doctors important insights into the risks their patients face when it comes to heritable diseases like cancer or heart disease.
Welch's background is in genetics. When he realized that doctors were lacking simple ways to understand and use genetic information, he decided to do something about it. "Family history is almost like a simple and free genetic test," he said. "By knowing what diseases run in a family, doctors can help patients identify risks and get the treatments or preventions they need, often before they experience any symptoms."
The problem, he explained, is that few doctors have the time to collect detailed family histories. "Doctors only collect family histories from about half of their new patients and from less than a quarter of their returning patients," he said. "It takes 20 to 30 minutes to collect a good family history, but on average doctors only spend 2 1/2 minutes with their patients. It's just not enough time."
Welch said that doctors often don't know what to ask, and their questions aren't detailed enough. "A patient's record might say 'family history of cancer.' Okay, but, how many relatives have had cancer? Was the cancer on your mother's side or your father's side? It's very different having a grandfather in his 90s who had cancer versus a brother in his 40s. Those are the questions that need to be asked."
Another problem is that patients often report inaccurate family histories. Altogether, less than 4 percent of family histories are detailed enough to accurately assess a patient's risk for heritable diseases, according to the Centers for Disease Control and Prevention.
"I was pondering this problem right when Facebook was first getting big," Welch said. "And I thought, 'Gosh, people spend so much time and effort uploading pictures, commenting and engaging with their friends and family. Why can't we use social networking to engage families to collect family health history information? Can we build a family history tool that functions as a social network that allows individuals to enter what they know about their health, and also invite family members to enter what they know — effectively crowdsourcing and creating more complete and more accurate family histories?'"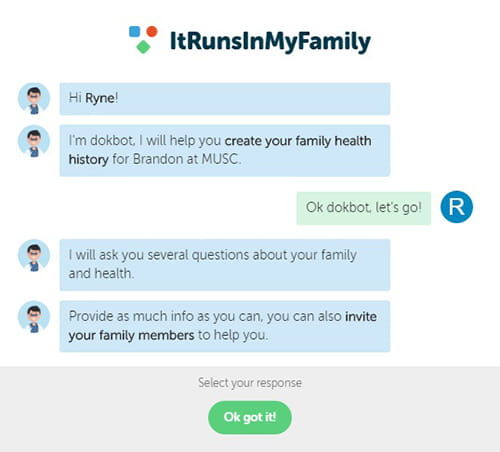 The answer seemed to be yes. The tool Welch created, ItRunsInMyFamily.com, is now in beta testing — the pre-release stage where software developers iron out all the kinks.
Online family history tools aren't completely new; there is the surgeon general's My Family Health Portrait, for example. But they're typically complicated and time consuming, their user interfaces cumbersome, and they don't solve the problem of inaccurate or incomplete information.
What sets ItRunsInMyFamily apart, besides its social features, is its user interface. Rather than filling out a form, patients have a conversation with "dokbot," a sophisticated computer program that walks users through the family history collection process much like a real doctor or genetic counselor would.
"I wanted to make it easier and more intuitive than filling out a form," Welch said. "Nowadays, we have Siri, Alexa or Ok Google on our phones, and we talk to them, they ask us questions and we respond. It's a much more natural way of exchanging information. 'So,' I thought, 'what if we could build some sort of natural dialogue into our system to make it easier to collect information from users? If we can turn the collection process into a conversation, patients can engage with the website like they would with a real person.'"
Welch said dokbot guides users through the family health history collection process much like a video game. "Users seem to love this sort of dialogue and interaction," he said. "As a website designer, you want it to be fun and intuitive. You don't want it to be a chore."
The website is fully compliant with the Health Insurance Portability and Accountability Act (HIPAA), which protects patient privacy, and Welch hopes that as users invite their brothers, sisters, parents, aunts and uncles, those family members will be more likely to add their information since the process is intuitive, and they are being invited by someone they already trust.
"Later on — in two to three months — we'll add privacy settings so that patients can hide sensitive information," Welch said. "Right now, the system deals only with cancer history, but we'll expand it to include heart and vascular disease, diabetes and others as we go."
He hopes the system will also one day have the ability to provide personalized recommendations for users with a strong family history of cancer to mitigate their risks, such as encouraging users to quit smoking or get more frequent cancer screenings at a younger age. "We also want to integrate our family history information with electronic health records systems like Epic and create interfaces for clinicians to access patients' family histories and more easily gather data for their own research."
Putting this valuable new method of collecting family health information into the hands of big data researchers and combining it with large scale genomic sequencing data might also hold the potential to radically transform the health care industry, leading to more value-driven, patient-centered care, he said.
Welch and his team started recruiting beta users in February and are working hard to find and fix any bugs in the code. He hopes to add the first patients by March.
If you have a family history of cancer and would like to be a beta user, contact Brandon Welch at welchbm@musc.edu.
About the Author
Keywords: Cancer