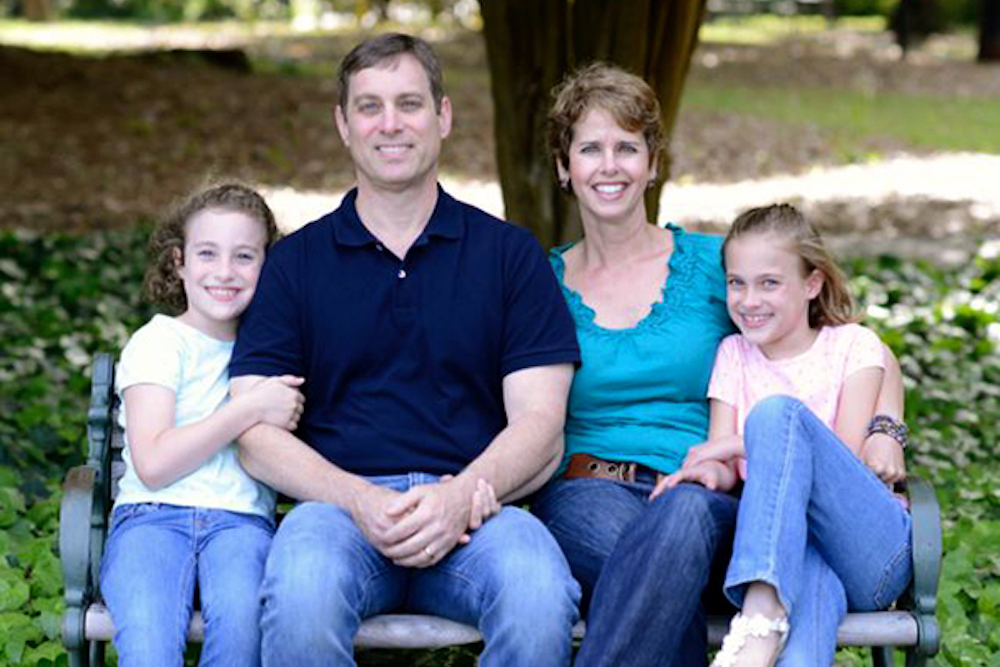 When Kelly Loyd learned she was having twins, it was exciting. When she learned they would be 11½ weeks early, it was terrifying, she recalls.
Instead of going home to their new nursery, her daughters ended up being whisked away to the neonatal intensive care unit at the Medical University of South Carolina. Annie stayed 31 days, and Gracie, who needed surgery to close a duct leading to her heart and was on a ventilator for 57 days, stayed 77 days. 
"My daughters would not be here without the staff at MUSC and in the NICU," Loyd says, celebrating today that her daughters, 8, are happy and healthy rising third-graders. "It became a very important thing for me to be able to give back to a place that helped my husband and me save our family."
Loyd decided to stick her "toe into the water" and volunteer at MUSC. Little did she know where that path would take her, including a recent trip to New York to speak at an international conference of the Institute for Patient- and Family-Centered Care. She was part of a team sharing MUSC's success story on how to effectively partner with families in health care design.
Loyd would know. 
In the last four years, she estimates she has put in more than 600 volunteer hours at the children's hospital, much of that dedicated to the planning for the $385 million, 10-story Shawn Jenkins Children's Hospital and Pearl Tourville Women's Pavilion. Some weeks, it averaged four days a week. She became such a part of the MUSC family, she even received her own official MUSC email.
Loyd is one of more than two dozen parents and volunteers who participated with architects and clinicians in the design process for the new children's hospital and women's pavilion that is slated to open 2019.
During the conference presentation in New York, each of the four presenters took turns speaking about their different roles in the design process, circling back to the value that was brought to the project by having so many family members at the table with the architects during the design, she said. "Our presentation was well-attended and well-received, and we did MUSC proud."
That would be true in more ways than one.
Robin Mutz, administrator for women's health and executive nursing director for MUSC's Children's Hospital, said the family members who participated in the design process gave the clinical staff involved with planning a really different perspective.
"I don't think that all of us always think of what it's like to be in the patient and family's shoes. To hear them talk about their story and how the physical space impacted them - that gave all of the providers a chance to pause and say, "Is the way I'm thinking about it the only way to think about it?'"
Another interesting impact was the effect it had on morale, observed Mark Scheurer, M.D., chief medical officer of MUSC Children's Hospital.
"We had families who cared enough to show up and take off work. It also helped engage the providers. They were more thoughtful. It's impressive to see family members come in month after month after month and have discussions with them. They've seen seven different versions of where we are." 
The versions have been, in part, because of the family input.
Loyd recalls going to Atlanta to meet with the architects. They were talking about the pregnant mothers showing up to deliver and were discussing whether the express "stork elevator" really was necessary. Loyd spoke about her experiences of going into premature labor. 
"I was in such a fog, knowing that there was one elevator – how valuable that would have been."
MUSC leadership heard her story. "They said, 'Discussion over. That's how it's going to be done.'"
She recalls another touching moment during a pediatric cardiac center planning meeting. They were discussing private versus open-bay rooms. After the meeting, a parent who was part of this design group sent an email that described the loss of her child and how hard it was to cry in the open-bay rooms where she was and process her grief. She explained how much it would have helped to have had a private room. Loyd and a colleague forwarded the email to the physician responsible for this design group, with the intention to share it at the next meeting. They never got the chance. 
"The physician opened up the discussion by reading the email and saying this is what needs to be done. These are two significant decisions that were made because of these families being willing to share their hearts and stories."
Having two premature daughters was an experience she  wouldn't wish on an enemy, Loyd said. "It was a real roller-coaster ride. It's a time when people are at their worst and they are at their most afraid. It's a horrible time in their life." 
It was an honor to be asked to share her input and help create a design and structure that will be comforting for families. "It's the impact of participating in the hospital's journey to truly realize how patient- and family-centered care will affect every single patient."
Sometimes there were conflicts in what would be easier for staff and what might be better for patients. The discussions helped illuminate the issues and options. 
What also helped is that Loyd has experience with these kinds of projects. The former medical equipment manufacturer worked for Duke University Medical Center from 1994 to 1997 and assisted with the design of a freestanding ambulatory center. Her grandfather was an architect. "This is not my first rodeo. I'm familiar with the jargon."
Now she's a lot more familiar with what it means to be dedicated to patient- and family-centered care. Loyd said the New York conference was her sixth trip in the last three years to represent the hospital. The conference also was a great opportunity to hear about what other hospitals are doing to advance the core concepts of patient- and family-centered care. 
"Those concepts are respect and dignity, information sharing, participation and collaboration. It's the idea of working with patients and families, not just doing to them or for them. Being with people from other hospitals around the country and even throughout the world was energizing to be able to see how they are incorporating these core concepts into the culture of their organization."
She attended many inspiring sessions, including ones on involving teens in the transition from pediatric to adult care and having a family support member on all Code Blue teams involved in the resuscitation of patients.
"The most inspiring sessions for me, though, dealt with how valuable the input of patients and families can be in every single aspect of hospital functions – from ensuring the core concepts are part of patient care to helping with the facility design to policymaking to improving quality and safety all the way up to the value of having a family member on the board of directors."
The families are volunteers and credit should be given to their efforts, she said. "You can't treat them like an MUSC employee. You can't put a meeting on an Outlook calendar and expect them to show up."
Her husband, Don, cared for their daughters when her volunteer work pulled her away. Other families made sacrifices as well. She's been amazed that this many people have been able to participate at a highly-engaged level. 
"They are a very brave group of people, a very committed group of people. They were very anxious to give back to a place that affected their lives. They gave the greatest gift of all – their time, their heart and their wisdom."
About the Author