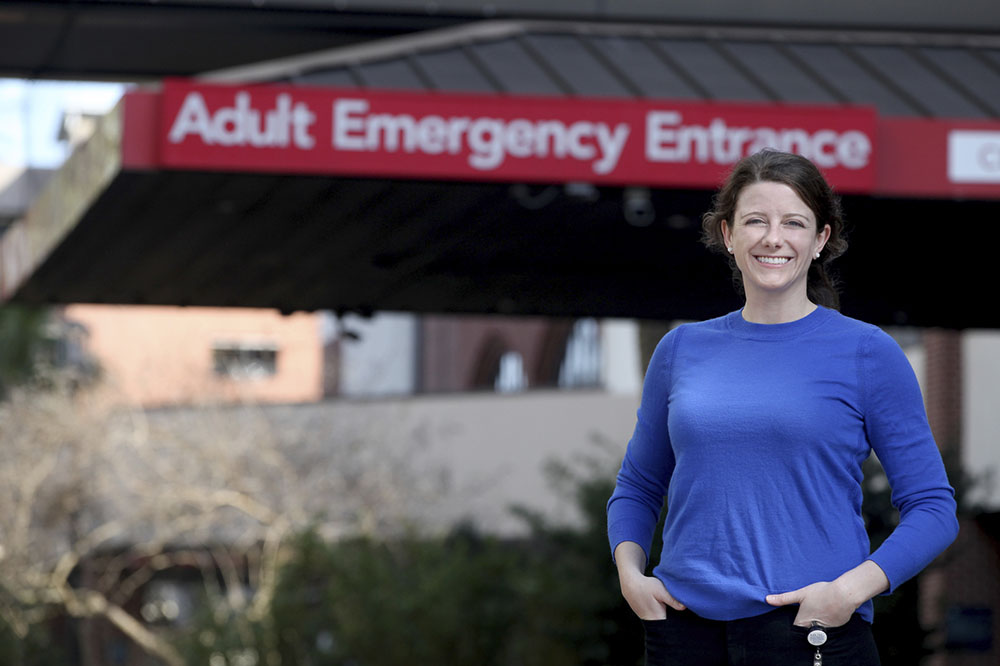 It is well known that the opioid epidemic is deadly. Opioid overdoses nearly tripled from 1999 to 2014. They increased again by 21.4 percent in 2016, accounting for two-thirds of all drug deaths in the U.S. But the epidemic is also expensive, costing the U.S. an estimated trillion dollars since 2001. Hospitals spend about $11 billion each year caring for patients with opioid use disorder. Accounting for much of these costs are the 430,000 ED visits of about 100,000 opioid overdose patients, many of them uninsured. Those visits cost South Carolina an estimated 58.6 million from 2014 through 2016.
Bearing the brunt of the opioid epidemic, the ED could also hold the key to effective intervention.

Three South Carolina EDs — one at MUSC and two in Horry County, Tidelands Waccamaw Community Hospital and Grand Strand Medical Center — are piloting a medication-assisted treatment (MAT) program for opioid use disorder with monies from the state. MUSC began offering the program in December 2017, and the two Horry County EDs followed suit in March 2018. (For more about the MAT ED program, see the MUSC Catalyst News story)
All patients seen in these three EDs are now screened for an opioid use disorder, and those identified as having one are approached about MAT. Interested patients are given one dose of buprenorphine, an evidence-based treatment for opioid use disorder, and a referral to an addiction center that has a specialist available to see the patient the next day to prescribe longer-term buprenorphine therapy as well as behavioral counseling.
Early results have been promising. In the short time since the program has been in existence, 6032 patients have been screened at the three participating EDs, 672 of which have been identified as having an opioid use disorder. Almost half (212) of the 469 patients who were eligible for buprenorphine have consented to treatment. At MUSC, 78 percent of patients who receive buprenorphine in the ED kept their next-day appointments and 66 percent remained engaged in treatment at 30 days. "We've seen several patients who were inducted that are doing wonderfully and not using anymore," says Lindsey K. Jennings, M.D., MPH, the MUSC Health ED physician champion for the project.
But will this successful MAT ED program be sustainable once funding runs out, given that many opioid users treated in the ED are uninsured?
Jennings now has the protected time she needs to develop a proposal for a cost effectiveness study that would answer that question, thanks to a mentored research development award from the Delaware ACCEL program. Delaware ACCEL is a partner of the South Carolina Clinical & Translational Institute (SCTR), which is housed at MUSC
"Clinical schedules are very busy. It's difficult to find the time to teach and do research and write grants while doing clinical care of patients," says Jennings. "I was thrilled that I would have protected time to take grant-writing coursework and to work with mentors to really learn the process and get feedback along the way."
Noted addiction researcher Kathleen T. Brady, M.D., Ph.D., MUSC vice president for research and SCTR principal investigator, was instrumental in procuring the state funding for the MAT ED project and serves as Jennings' mentor, helping her refine her grant proposal for the cost-effectiveness study. Brady also introduced Jennings to Kit N. Simpson, DrPH, and Annie Simpson, Ph.D., of MUSC's Department of Health Care Leadership and Management, who are experts in methodologies for analyzing cost-effectiveness.
"Dr. Brady went over the proposal with me and helped me make it a bit more feasible," says Jennings. "Since I got the award, she's been meeting with me regularly to offer feedback as I put the proposal together. I really appreciate that someone so busy and with so much on her plate as Dr. Brady has taken the time to be such a great mentor."
Jennings plans to collect data on ED and hospital admissions before and after the introduction of the MAT ED program. If the program reduces those very costly admissions, it could convince more hospitals that it is in their best interest to pay for this type of program.
Better connecting opioid users in the ED to outpatient evidence-based treatment could improve their chances of kicking their addiction while also reducing their costly reliance on the ED. Opioid users often come to the ED for treatment of injection-related infections, such as cellulitis, an infection of the skin and connective tissue, and endocarditis, a potentially lethal infection of the heart.
"We hope to show that, once patients are linked to outpatient treatment, they will be less likely to come into the ED for things like overdoses or cellulitis or endocarditis," says Jennings. "By getting patients into outpatient care, we should be able to decrease acute care and related costs."
Jennings is proud of the work she and other ED providers in the state have done to intervene in opioid addiction. "As health care providers, we have to find a better way to address the opioid epidemic," says Jennings. "ED providers here and across the state and country have stepped up to the plate in order to help meet those needs and to embark on something we've never really done before."
With funding from Delaware ACCEL, she will demonstrate the cost-effectiveness of the program, ensuring its long-term sustainability and facilitating its adoption by other EDs.
Suggest a Story
Have an idea for MUSC Catalyst News? Contact our editorial team and let us know.
About the Author