Overview of PEERS
PEERS Program Structure
The size of the peer junior faculty group will be capped at 5 participants to encourage candid discussion of each other's Specific Aims pages. The program will include the following elements:
One in-person peer group meeting (2 h total)
Time for Specific Aims revision, if desired (1 week)
One in-person mentor and peer group meeting; workshop evaluation (2.5 h total)
PEERS Spring 2020 Timeline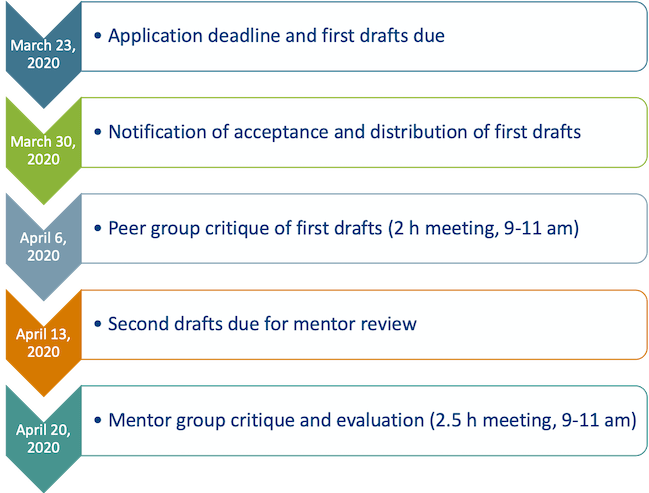 Meeting Details
Acceptance to PEERS. Specific Aims first drafts will be submitted with your application and distributed when the final group is confirmed.
Session #1: Peer Group Critique. Group members should arrive to Peer Group Critique prepared to give thoughtful and constructive feedback to others. Each group member will have approximately 20 minutes devoted to review of their working Specific Aims document: the first 5-10 minutes will be an author-led presentation of aims and grant concept, and the final time will be a facilitated discussion and suggestions for writing improvement.
Session #2: Mentor Group Critique. Each group member will have one week to revise their aims for mentor critique. Workshop mentors will then have an additional week to review second drafts prior to meeting. Each group member will have ~5-10 minutes to summarize their aims and any relevant changes for the group, with ~15 minutes being devoted to mentor feedback. The last 30 minutes will be devoted to an evaluation of workshop effectiveness.
Follow-Up. Participants may choose to set up a meeting with an ORD representative closer to their proposal due date to discuss any lingering issues, concerns, or review final pieces of writing. We respectfully request that workshop participants be willing to share their final scores, award status, and summary statement information with the ORD and participating mentors. This information will enable our office to better tailor ongoing future support and mentorship for past workshop participants.